Welcome to BULL PEN!  Every week we gather some good news about our BCP friends and family to share with you.  If you've got news to share, send it my way at [email protected] Have a great week!!  –Noah Stetzer
Congratulations to long-time BCP pal Jamaal May (co-director Organic Weapon Arts) on making the PEN AMERICAN Open Book Award Long List with Big Book of Exit Strategies (Alice James Books).
Anders Carlson-Wee–winner of the 2015 Frost Place Chapbook Competition with Dynamite, selected by Jennifer Grotz–has been nominated for a Pushcart Prize by Diode Editions.
Roxane Gay, contributor to INCH 19, on the importance of storytelling up at The Creative Independent.
"…laced with strands of tart poetry and emulates the dark sparkle of Dorothy Parker, Edna St. Vincent Millay, and Truman Capote. Effervescent with verve, wit, and heart, Rooney's nimble novel celebrates insouciance, creativity, chance, and valor."  Donna Seaman on INCH 16 contributor Kathleen M Rooney's new book Lillian Boxfish Takes a Walk (St Martin's). Booklist Online.
Check out "Astronomer," INCH 25 Rachel Richardson's poem featured at American Life in Poetry.
INCH 16 contributor Nickolas Butler, along with BCP author B.J. Hollars (In Defense of Monsters), featured in an article about teaching creative writing published at Leader-Telegram.
"Writer Carmen Maria Machado wasn't totally surprised when her parents informed her, 31 years into their marriage, that they were planning to divorce. But the news did produce a wave of anxiety over her own upcoming wedding. She shares how she and her fiancee are moving forward, keeping in mind her parents' mistakes, as part of our re-launched "Essay" series — now called "In My Humble Opinion." Carmen Maria Machado, contributor to INCH 20 & BCP pal, up at PBS News Hour.
Your BP editor, Noah Stetzer, happy to share three Grind poems that were featured at Green Mountains Review.
---
Now Open
5th Annual Frost Place/Bull City Press Chapbook Competition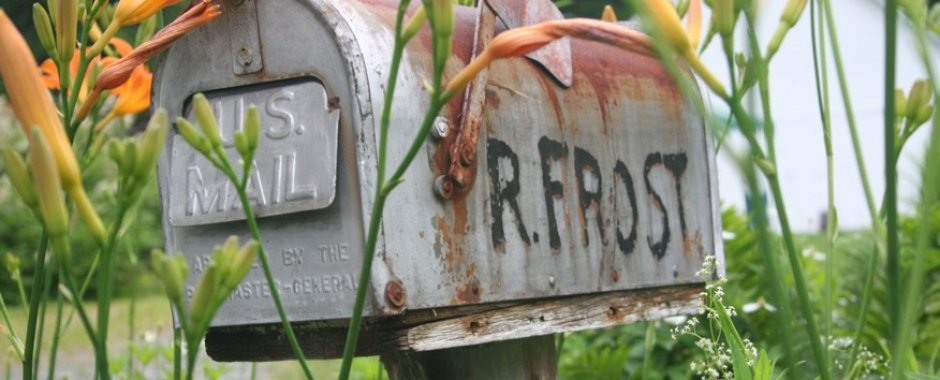 Now Open: The 5th Annual Frost Place Chapbook Competition   Submission Period: October 1, 2016 – January 5, 2017. Application Fee: $28.00. Applications are only accepted online unless other arrangements are made with The Frost Place office. Look for the link to our submission manager, as well as information about summer programs at The Frost Place, on the home page of The Frost Place website: www.frostplace.org.
---
Save the date!
Bull City Press will be hosting a 10th Anniversary Reading at #AWP17 on Friday 10 February 2016.