Maybe you've known about Inch for a while, or maybe you just found out about us.  Either way, we want to make sure that you have a chance to catch up on the last year of short poems and prose with a spectacular deal.  For a limited time, you can get issues 22-25 AND a two-year subscription for only $10.
A year in the past and two years in the future?  That's like having a time machine!  So we're calling this deal the Time Machine Bundle.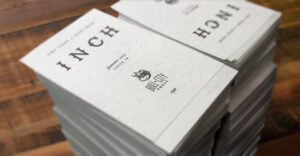 The brave time travelers who take advantage of this offer will get stories by Daniel Wallace, Halina Duraj, Catherine Lewis, and more, plus poems by Emma Bolden, Rachel Richardson, Al Maginnes, Rosalynde Vas Dias, Michelle Peñaloza, and more.  And they'll get two years of the tiniest quarterly in American letters, with upcoming work by writers like Vievee Francis and Luke Wortley, to name a few.
Each handmade issue is 4.25″ x 5.5″.  They're the perfect size for your pocket, for your lunchbox, or for your go-bag.  Who doesn't want literature they can take anywhere?
Order now! Two years of Inch plus a year's worth of back issues – only $10.00.  Sorry, folks, we've sold out of the bundle.  You can still subscribe to Inch, though.